Way back when I started this blog I think I mentioned I might do some room makeovers. Well today I am going to bravely share my laundry room makeover.
We have lived in this house over three years. We built it. It's our dream home. It's where we want to live forever and ever. :)
So since we had to move in before it was totally and completely finished to dream home status....some things need improving. Like the laundry room.
Our laundry room was not very functional for me. Not only did it house our washer, dryer, laundry hampers and piles (hehehe) it also had an upright freezer. Well as if that wasn't enough, we got a new HE washer and dryer a while back and it was even bigger, plus--as much as I LOVE them--they were taller which meant I lost my 'folding clothes' space. But one of the very worst problems was that the only place I had to hang clothes hangers was on the laundry sink. And as you will see from the pictures that bumped right up against my, ahem, behind as I tried to work with the clothes.
Ready to start the tour?
This is the door into the laundry room. Actually at this point we have already removed the freezer. Prior to that you would have been staring at the door to the freezer against that wall. And those two rolling hampers used to be side by side between the freezer and the sink. (Incidentally, that trash bag was there just because I was doing cleanup....) You'll notice though with no place to hang clothes I would have to use those hangers on the door and the door knob AND the freezer handle,
that's gone now....
Okay moving into the room, here is a view of the laundry sink (filled with soaps, hangers, dust, dust, dust....and clothespins)
As you can tell. I was in dire need of shelves and clothes rods! And here we have piles...I wish I could say those have only been there a couple of days. HA!
Ick. But let's not dwell on that! Here is my beautiful washer and dryer! Does HUGE loads in a single bound!! And as you can tell--has to hold folded clothes as well.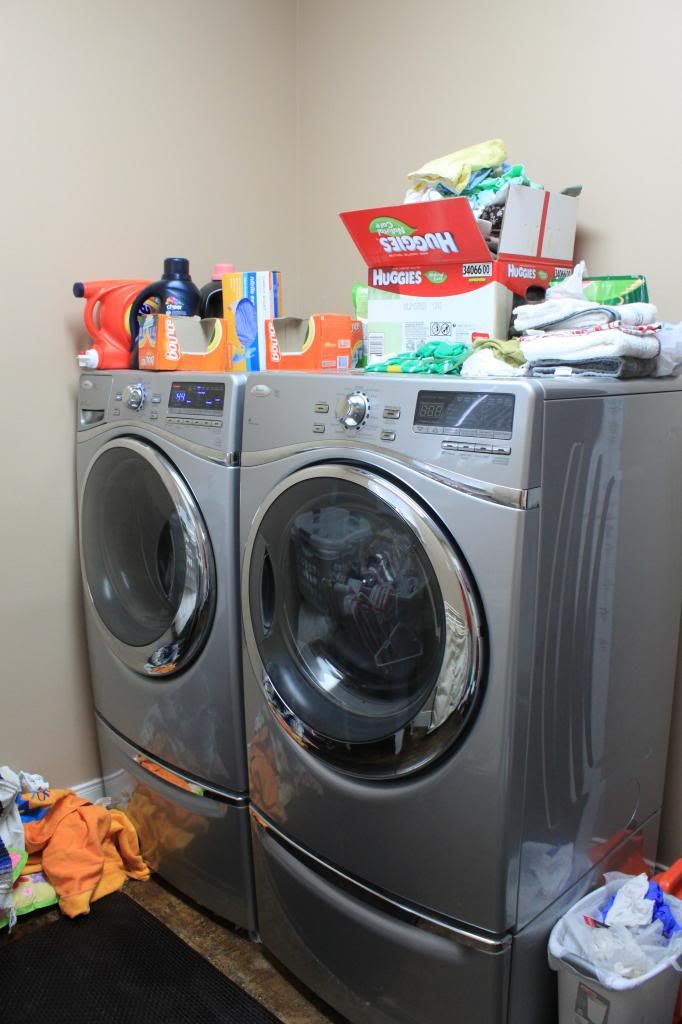 Have you seen enough? How about one parting shot just to remind you that there was NO place to hang clothes. At all. (In case you're wondering that Huggie box is where I put clothes after I wash them that are giveaway.)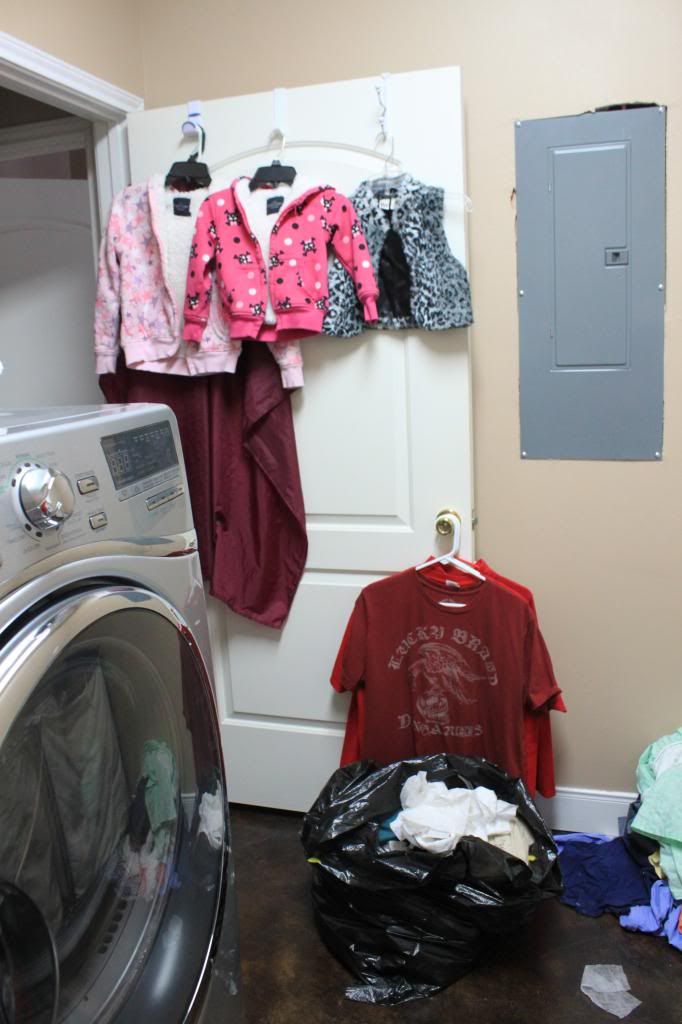 Man. That was sad. But let's move on to the positive!
Ta-dah!
Sigh. Did you see that? Floor space. And hangers. Hanging. How about that abominable sink fiasco??
Wait...what? There really was a sink in there. Hmm. That's handy in a laundry room. Anyway. Shall we take a look at pile central?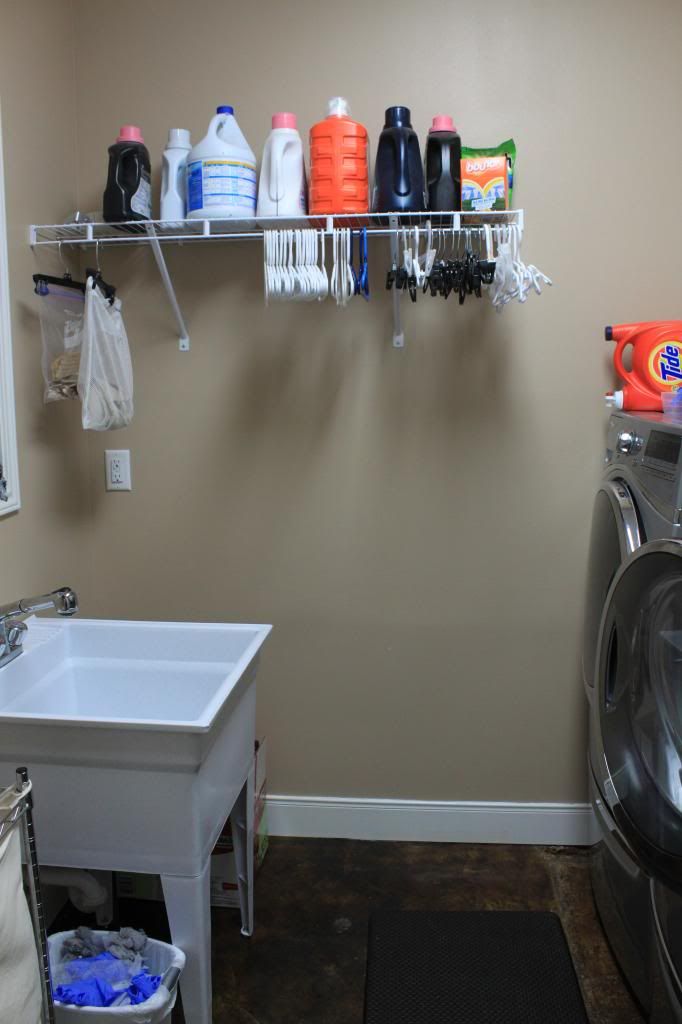 Hint: that is the part where you should have heard angels singing. :)
This shot doesn't look much different from before because, well, my washer and dryer are still my countertop.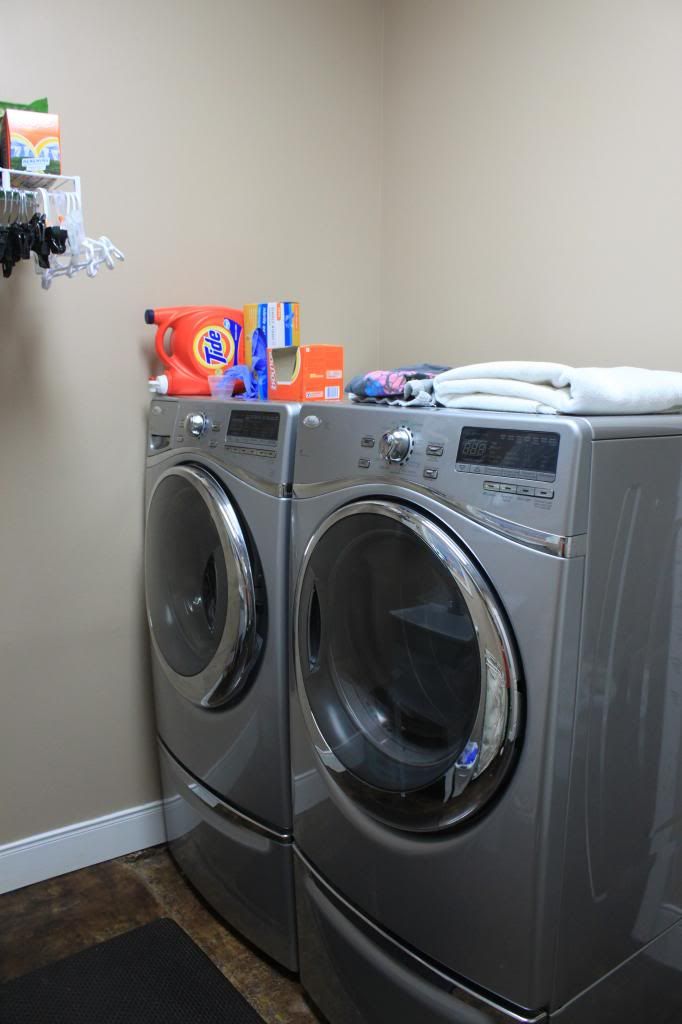 And here's the door sans articles of clothing.
I still need some type of counter top. I am talking with my Dad about some type of fold down table over the hampers that can be put up when not in use.
Ahh. I know it's not one of those beautiful laundry rooms you see on Pinterest with the vinyl words and soap in glass jars, but I like it. In fact, I walked around the house all day looking for dirty laundry to wash. Truth.
Hope you all are having a lovely start to your new year!
Meredith